This version fits the Liquid Cooled K1600GT(L) Models;
K1600GT - K48
K1600GTL - K48
K1600GTL Exclusive - K48
K1600 Bagger - K61

*This product has not been certified for use in all countries. For sales outside of the USA, please use at your own risk.

This accessory manager let's you easily add & configure accessories without cutting any wires. It empowers you to easily fit additional lights, an air horn, accessories & emergency brake lights - making the bike safer to ride.

Key Features:

Waterproof and dustproof
One switch manages everything
Integrates additional safety features
Does not void warranty
Plugs directly into CAN-Bus (saves time)
Unobtrusive - fits perfectly under the seat
Four individually fused channel

Specifications and Components: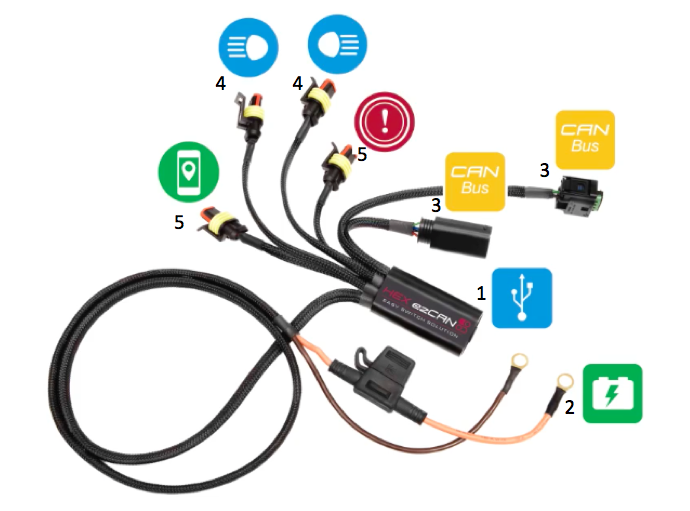 >

Waterproof micro USB connector
Battery connection and fuse
Two CAN-Bus connectors
Two high-power outputs (10A continuous / 25A, max 20 seconds)
Two low-power outputs (4A continuous)

Product size 55 x 30 x 16mm (2,2 x 1,2 x 0,6")

Easy Installation:

Step 1 - Download and install the HEX ezCAN software
Step 2 - Install the ezCAN
Step 3 - Route and connect the ezCAN battery cables
Step 4 - Plug the ezCAN into the motorcycle CAN-Bus
Step 5 - Plug accessories into the ezCAN
Step 6 - Use the software to configure the ezCAN via USB (Mac or Windows PC Software)


The HEX ezCAN software is available for both Mac and Windows PC and is used via a micro USB cable, which is included in the package.

Use Channel Mapping to select your preferred configuration. The Configuration window then lets you customize the behaviour of your accessories according to CAN-Bus inputs, for example setting up an emergency brake light to flash when the ezCAN detects harsh deceleration or the LEDs to flash when the air horn is activated. Accessory/Ignition supply can be set to remain on for a specific time after the ignition is turned off.

Contents of Package:

HEX ezCAN device


Micro USB cable


Two Velcro strips


Four cable ties


Four stub connectors


Two blank connectors


Video Instructions for the BMW K1600GT(L) Series:

K1600GT - K48
K1600GTL - K48
K1600GTL Exclusive - K48
Customer Ratings & Reviews
Be the first to rate this item!
https://www.youtube.com/watch?v=GNdhjET3foA