GS-911wifi (10-pin) Enthusiast Version
BMW Diagnostic tool
Will work on up to 10 VIN's
Fits all BMW motorcycles with round 10 pin connector up through 2016.
(For 2017-on models with rectangular OBD-II connector see GS911wifi OBD II version).



____________________________________________________________________________
GS-911wifi, designed by HEX Code, is the new generation diagnostic tool for BMW motorcycles.


GS-911wifi is a unique software and hardware combination that gives the BMW enthusiast the ability to communicate with the control modules in a safe and controlled manner.
The GS-911wifi allows anybody with a PC or mobile device to tap into this diagnostic capability provided by their BMW motorcycle. Finding the cause of a dead motorcycle while stranded on the side of the road could make the difference between a terrible day and arriving safely at your destination. While technicians use a variety of tools to service the mechanical components of a vehicle, the GS-911 tool takes care of the electronic side.
It is compatible with the latest Generation of K001 chassis BMW motorcycles (K1600GT/GTL, R1200GS LC, R1200GS Adv LC, R1200RT-LC, C-Evolution, 2015+ R1200R, R1200RS, S1000R, S1000RR/all years and the S1000XR. This product is also backward compatible and supports ALL the previous models of BMW motorcycles that have the round 10pin diagnostic connector!
*Also compatible with the Husqvarna Nuda 900, Nuda 900R, TR650 Strada & TR650 Terra.


GS-911wifi
- This product has support for USB & WiFi connectivity and is compatible with the GS-911 Windows™ PC software. It also provides Emergency functionality and Cloud-based service functionality for mobile devices (typically iPhone, iPad and Android devices) using a web interface. The Enthusiast version is limited to 10 different VINs for service functionality but can be upgraded online to Professional once the limit is reached.
-- MAC USERS: The full program is available on the HEXcode Cloud, via your web browser and a wifi router with internet connection. To run the PC software without using a web interface, you will need to install Parallels or Apple's Bootcamp
-- There is no CD or software in the package - you will download the latest GS-911 software from the manufacturer's website or app store for the mobile applications.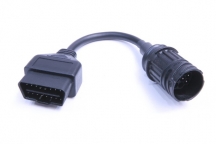 Customer Ratings & Reviews
Be the first to rate this item!
https://www.youtube.com/watch?v=MY02lJAN1zY