Siebenrock Brass Neutral Switch, 5-speed gearbox R2V
The stock neutral switch is known to leak, often not long after you have installed a new one. They just aren't reliable.
This Siebenrock switch is the answer, we haven't seen one leak yet.
Product no.: 6131097
Substitute for BMW part number: 61311243097
Fits Airheads 1976 and on.
Replacement gasket recommended. See drop down above.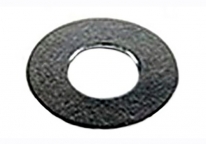 Customer Ratings & Reviews
Ratings Snapshot
Would recommend this product.
Would recommend this product.
Airhead neutral switch
Kona Ken
Location: Modesto Ca.
Date: April 28, 2015
Finally stops the drips that seen to be such a problem with the OEM part. A tip on removing the trans. spacer to access the switch. Use the cupped end of a tire iron under the spacer. Cut a wooden 2 x 4 to fit from the ground up along the rear of the trans. Use the 2 x 4 as a pivot point to pry out spacer. The pressure is on the wood and won't put any pressure on the trans. housing. Freeze spacer to reinstall. Coat bolt and edges of spacer with an anti seize compound in case you need to replace this switch again in 20 years!